2021 Cadillac CT5 in Prince George, BC

Overview of the 2021 Cadillac CT5
The 2021 Cadillac CT5 is a stylish sports sedan that surpasses many models in its category with its luxurious features. Several new interior and exterior elements are available for the 2021 Cadillac CT5, including a new limited-edition variant. There are four trim levels to the CT5's lineup.
Here at Wood Wheaton Cadillac in Prince George, British Columbia, and Vanderhoof, Fort St. James, Mackenzie and McBride. We can provide you with great Cadillac CT5 reviews. Contact us if you would like to learn more about our available Cadillac CT5 models, any of our new inventory available on our lot.
2021 CADILLAC CT5 Interior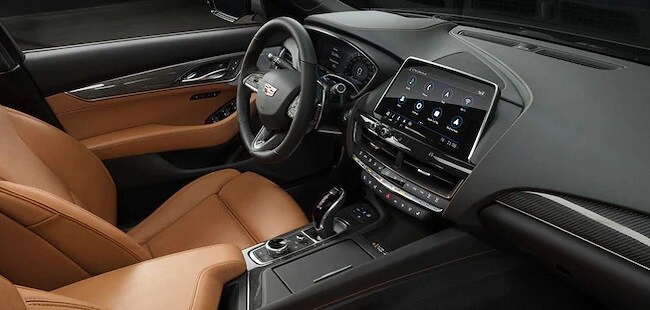 2021 CADILLAC CT5 Exterior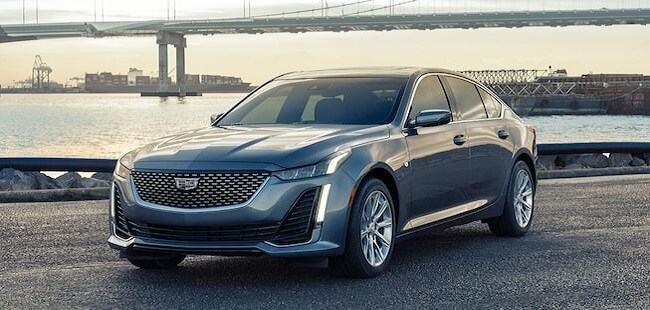 Interior and Exterior
The 2021 Cadillac CT5 maintains its classy, sporty design from its interior to its exterior. Capable of seating up to five people, the new Cadillac CT5 has a comfortable and spacious cabin, with features like ambient lighting and power lumbar support for the sedan's front seats to increase the comfort of the CT5's cabin.
The luxurious mid-size sedan wears subtle, stylish chrome accents around its exterior. A sleek vertical LED headlight and fog light design give the CT5 a bold appearance from its front end. Large alloy wheels are equipped on the CT5 to provide the sedan with a great stance. The exterior of the CT5 is available with several additional options as well, like illuminated door handles and a rear trunk lid spoiler.
Technology and Performance
The 2021 Cadillac CT5 wouldn't have been complete without excellent technology features to support its refined appearance. A large 10.0-inch touchscreen comes equipped in the centre of every CT5's dashboard. The touchscreen allows drivers to access the model's infotainment system, but a rotary knob near the centre console also comes in the vehicle. A head-up display is available for drivers who would like to see their vehicle's information projected onto the windshield of the new CT5. The new Cadillac CT5 comes boosted by one of two available powertrains. A turbocharged 2.0-litre inline-four-cylinder engine is the standard powertrain of the CT5 lineup, but a twin-turbocharged 3.0-litre V6 engine is also available.
Make an Inquiry